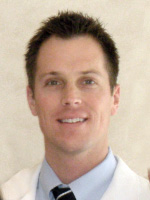 Justin Wittkopf, M.D., is board-certified in Otolaryngology - Head and Neck Surgery, and also in Neurotology - Skull Base Surgery. Dr. Wittkopf is the only fellowship-trained and board-certified ear surgeon (neurotology) in the Northwest Chicago suburbs and has practiced with Affiliated Ear, Nose and Throat Physicians since 2009.
Dr. Wittkopf was born and raised in Iowa. He completed his undergraduate training at Iowa State University before proceeding to medical school and the University of Iowa. During medical school, Dr. Wittkopf was selected to Alpha Omega Alpha, the medical school honor society, in his junior year. He was one of only 6 students to receive this honor from a class of 175 students. Dr. Wittkopf finished his medical school in 2002 where he graduated at the top of his class.
Dr. Wittkopf completed his residency in Otolaryngology - Head and Neck Surgery at Vanderbilt University Medical Center in Nashville, Tennessee. During his residency he published many research journal articles. He was awarded first place in the Vanderbilt research project on immunofluorescence of the facial nerve.
After residency, Dr. Wittkopf completed a two year fellowship in Neurotology and Skull Base Surgery at the world-renowned Otology Group of Vanderbilt. Here, he was expertly trained in the medical and surgical management of chronic ear diseases and disorders, skull base tumors and acoustic neuromas. Dr. Wittkopf practices all aspects of Otolaryngology, but especially is an expert in Otology and Neurotology, providing a service that was previously unavailable in McHenry, Lake and Kane counties.